Is dental implant treatment expensive?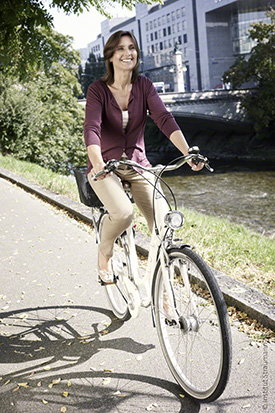 Contrary to what you might think, conventional options are not always cost effective compared to dental implants. The initial layout for dental implant treatment varies on how many implants are needed and if bone augmentation is required. Other factors include the surgery itself lab work, the prosthesis, and the dentist's and dental technician's fees. A cost plan will be developed only when all of these aspects have been addressed, and in some cases, dental implants may be more economical in the long term.
After seven years, the initial cost for a single-tooth implant restoration pay off and the long-term maintenance costs are lower than for a conventional bridge.1
In terms of cost-effectiveness, studies suggest:
For single-tooth replacement, a single implant is to be regarded as a cost-effective treatment option in comparison to a traditional three-unit fixed dental prosthesis.1
In some situations with either non- or minimally restored teeth with sufficient bone, an implant reconstruction is recommended from an economical point of view.2
For the replacement of multiple teeth, dental implant protheses were associated with higher initial costs, but improvements in oral health-related quality of life compared with other treatment options.2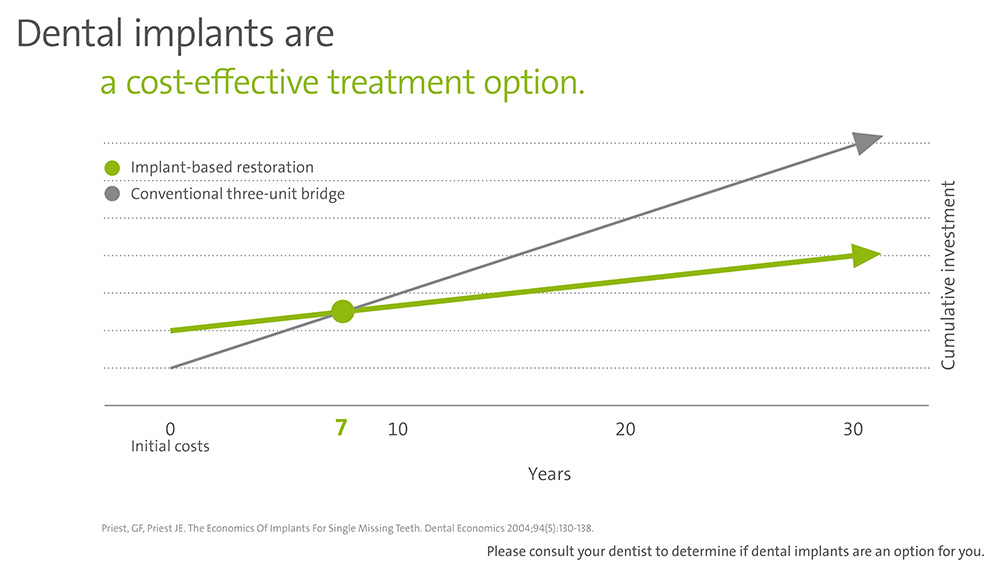 1 Priest, GF, Priest JE. The Economics Of Implants For Single Missing Teeth. Dental Economics 2004;94(S):130-138.
2 Vogel R1, Smith-Palmer J, Valentine W. Evaluating the health economic implications and cost-effectiveness of dental implants: a literature review.
Are there risks when placing dental implants?
Dental implant therapy is not an experimental approach; it is a well-proven, state-of-the-art dental technique that has been scientifically tested and used to replace natural teeth for decades by dentists and surgeons worldwide.
Depending on the condition of each patient, potential risk factors may vary. Poor oral hygiene or limited healing of the wound due to pre-existing medical conditions (e.g., diabetes, osteoporosis) may reduce the odds of the implant remaining in place.
Since every surgical procedure carries potential risks, your dentist will evaluate whether dental implants are the option for you.
Is dental implant surgery painful?
Dental implants are generally inserted under local anesthetic to help minimize discomfort. If you experience any concerns about the condition of the implant site after the procedure, please make sure to consult with your dentist.
Are there any figures on the satisfaction level of people with implants?
According to a survey carried out with 10,000 patients in Germany (Riegl Survey 6), 67% of those questioned rated their satisfaction with their implant-supported restorations as "very good" and 31% as "good." Of patients with conventional restorations, only 42% indicated their level of satisfaction as "very good" and 45% as "good."
Is there any age limit to dental implant therapy?
It is possible to place dental implants as soon as the jaw has stopped growing. Therefore, in young patients dental implants can only be placed once their jaw bones are fully developed. At the other end of the spectrum, there is no age limit, given of course that the patient does not display any significant medical risk factors. This will be evaluated by the dentist.
How long do I have to wait for my final restoration?
After placement of your dental implant, the bonding process (osseointegration) takes between three to four weeks and a few months, depending on your individual situation.
In this time, the implant reaches the stability needed for it to bear weight like a natural tooth. As always, healing times can vary depending on the individual condition and indication, and your dentist can review your expected healing time.
What differentiates the Straumann Dental Implant System?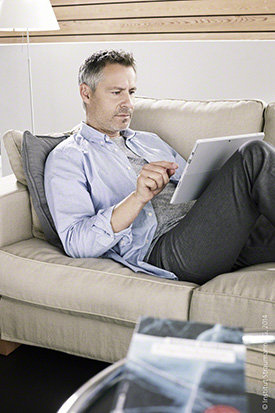 Straumann has been researching, developing and manufacturing reliable, high-quality dental implants since 1974, and to date has sold over 14 million implants worldwide. Together with Swiss precision engineering and clinical excellence, the Straumann Dental Implant System has earned worldwide trust, and is one of the best documented systems with more than 35 years of extensive scientific, clinical evidence and supported by more than 700 scientific publications.1
1 According to the PUBMED database query "Straumann Dental Implant OR ITI dental implant", 733 results as per 6th of October 2014—with the first entry being "Schroeder A. et al.: The accumulation of osteocementum around a dental implant under physical loading, 1978."